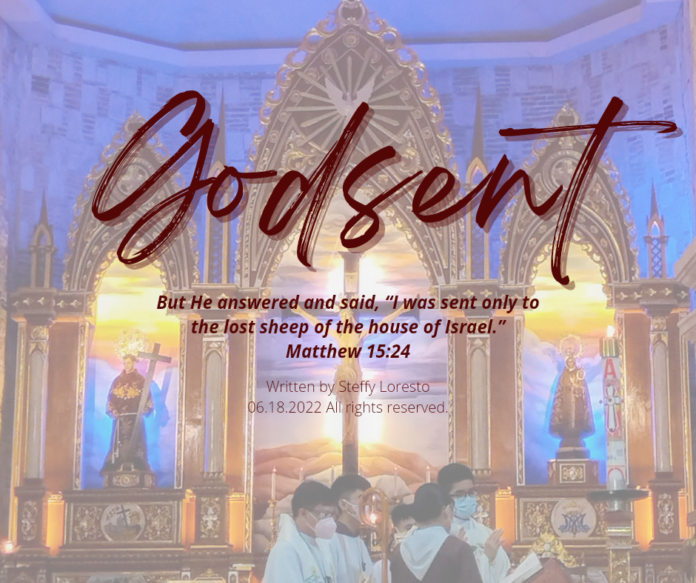 Disclaimer: The views and opinions expressed in this article are those of the authors and do not necessarily reflect the official position of Boiling Waters PH.
Matthew 15:24
But He answered and said, "I was sent only to the lost sheep of the house of Israel."
For me, it was an almost year without rain since my mother left us in the most devastating way possible – she's gone in this life for good. Everyday without her is drought, but the tears in my eyes keep on flowing relentlessly. And then I felt lost and empty, like everything is nonsense. Crestfallen, my soul went rogue and nowhere to go. I've forgotten to call Him to ask for mercy and ease the pain, thinking this is incurable. My spiritual connection, honestly, is slowly dwindling in the vast darkness of grief.
But along every wretched road of gloom is a lamppost of hope sharing an incandescent glow, that steers a lone passer-by not to stumble on his way again.
While you are busy reading this article, try mo rin makinig sa episode namin:
It is somewhat true that we'd meet some people who would take a role in our journey, at the very least expected time and circumstances like mine, in an April mid-summer. The season of Lent has began and I intended to keep myself isolated that whole short vacation to loosen up and repent, but fate has led me to the church. There is a tiny voice whispering inside my head, saying that I need to join the celebration of the passion of our Redeemer that day. And seeing this person for the first time I guess, had let me felt an immediate rush within, like a rathe flower – but never withered. My lifeless heart has been resurrected rapidly amidst this misery. In the most unanticipated way, I was awakened by this feeling, and this bewilderment brought me alive back from the dead. Once again, I am a kid out of school.
They say to love is divine for it creates an atmosphere and glory. But from the very same moment of my sudden splendor, I fell from grace. For it is inappropriate to have feelings for someone who has a special calling from the Lord – a man who started living the life of chastity and abstinence in preparation to the next step of his vocation, the sacerdotal consecration.
I tried so hard to let it go, and be oblivious to it. 'We were time and sky' I told myself, from the thought of him being untouchable. As a follower of Christ and the church doctrine, I chose to set aside the growing affection, but I can never deny it. I am but a human who's feelings cannot be refrained sometimes. But this tenderness inside is treacherous, like a creeping vine of ivies that keeps on growing, clouding my head. I've seen myself in countless moments saying prayers of repentance and not to be led by temptations.
Days passed and unbeknownst to me, I am finding myself reviving what I've lost some times ago that is quite peculiar – my obliterated faith. I was first in quite disbelief seeing myself being allured by my once forgotten creed. And it felt like a league of angels are singing in my mind by this beautiful enticement. My heart is beating once again, full of life and saved by Grace. There is a very strong pull filling my half-empty being and keeps me walking towards Christ. Indeed, the Lord is working and doing everything possible to get back all of those who were drifting apart from Him. Now I am gradually foreseeing a more vivid and strong faith ahead of me. Half of my gratitude belongs to him and the other half to God. His inviting presence has led me to the Lord instead – and even more closer, and on the other hand, Christ saved me once again by His undying Love. I am forever grateful by this new life I received, I cannot express everything in words, and maybe this is a state of Grace.
Thank you dearest Reverend M., you are a part of those instruments sent to revive people like me. I hope one day we'd meet again and tell you this, but perhaps not. Or maybe in another life, I can express this affection for you without any constraint. I will entrust all of my heart to Him, and may Thy Will be done. For now I pray for your successful vocation and may this be my sweetest sacrifice. May you solemnly serve the people and spread the Words of the Lord in this lifetime. Mostly, glory to God in the Highest.
Sincerely, Steffy

May 18th, 2022
All rights reserved.