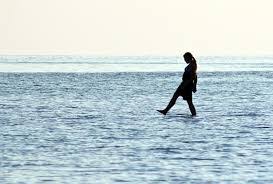 Disclaimer: The views and opinions expressed in this article are those of the authors and do not necessarily reflect the official position of Boiling Waters PH.
When God asked you to walk on waters…
You: Huh?! Lord, hindi po ako marunong lumangoy. Baka malunod po ako. Maalon po oh. I have fear of waves.
Eventually, when you tried…and reached the other side.
While you are busy reading this article, try mo rin makinig sa episode namin:
God: My child, I did not command you to swim underneath the deep waters, I told you to walk on it. You can't swim, but you can walk.
—-
Sometimes, we are afraid of what God commands us to do because we thought it's out of our comfort zone and capabilities. But God doesn't give us mission without His provision and without Him as our co-mission. Pag may pinagawa sa atin si Lord, sasamahan Nya tayo and by His grace we are able to accomplish it.
For now, just take the first step… with God.