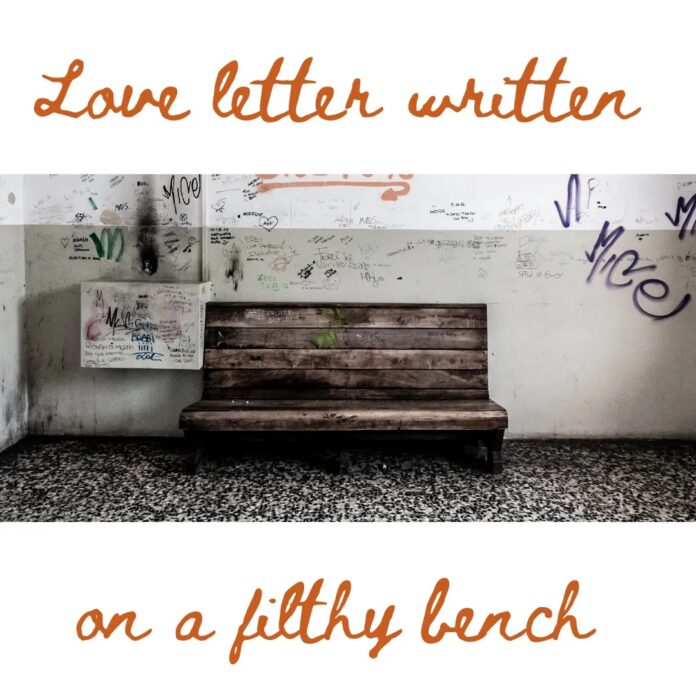 Disclaimer: The views and opinions expressed in this article are those of the authors and do not necessarily reflect the official position of Boiling Waters PH.
To the Lover of My Soul,
I clearly remember the first day I met you. That day I was sitting on the filthy bench with hopeless eyes staring at people passing by. For hours I would ponder, will this end? Will there be hope? Scenarios were flashing like a movie in my mind. I look back and ask myself, what have I done with this life that was given to me? For ten years, I have wasted my life. Men after men were there to use me in exchange for a penny. That very moment I looked at myself as filthy as the bench that I sat on. Then You came and stopped by. You sat with me. You were right there staring at me for a moment. In your eyes, I saw love and acceptance. It was the first time someone sat with me but did not take something from me; you were just right beside me. I didn't feel used or condemned, but rather mercy. It was sweet. You were there for a few minutes or so, and then you asked a question. "Is this the life you really wanted?" The question was so gentle. It was full of hope. You never forced me to answer; instead, you showed me the reality around me. You made me realize that life is better than what I have experienced during those years. That there is something more than just sitting on the filthy bench that I used to sit on, as if my whole body was poured out with cold water, and it made me realize that I should get off of this filthy bench. This is not a place where I should be.
While you are busy reading this article, try mo rin makinig sa episode namin:
That very moment, I felt so vulnerable. Then I cried a lot. I said to you, "Will you please help me? I don't want to be here anymore. But I don't know how to get out from this filthy bench." You comforted and assured me that everything was going to be alright. I felt your embrace, and Your arms were so comforting. I felt the warmth of Your love.
The next day you came by again. You asked me if I wanted to go swimming. I was hesitant. I was considering whether I should go or not. There was something in your voice, something that gave me peace, something that wasn't forceful, that was so gentle. And I said, "Okay, why not?" I never thought that the invitation to swim was going to be my starting point. You got me to a position wherein I would not sit on that filthy bench anymore and that I would not see myself as dirty as that bench. You brought me to a place of hope, a place of redemption, a place where I can be with you. I will be with the One that rescued me, and that is You. You told me, "The thief comes only to steal and kill and destroy; I have come that they may have life and have it to the full." (John 10:10) A promise worth holding onto. In my entire life, no one ever assured me the way that You did. Then I choose to accept the love that You offer.
I enjoyed being with You. You are with me in my happiest and loneliest moments. And sometimes you laugh with me. Even in times, I do stupid things; you never condemn me. There were times my past would hunt me down, but You are always there, willing to listen, embrace, and love me despite everything that I have done. When I cry, you comfort me; when I am angry at the people that caused me pain, you hug and forgive me. I was like a baby then. I didn't know what to do, but You guided me in every way. I love how You lead me. I am complicated, I am hard as a stone, my stubborn heart would get in the way, yet You were so patient with me. I often failed You, yet You are always willing to embrace and guide me again.
But one day, I ran away from You. I ran away from Your love. That was the time I was searching for something. There was a longing in my heart that I thought running away from You and looking for love in other people would satisfy me; I thought entering a different relationship would fill me up, but I ended up betrayed, lost, and broken. But You chased me, and You reached for my hand offering Your love for a second time around. I was so ashamed of myself after everything that I did. After all the love you offered, I chose to run away from You, but You said, "I still love you." I was like a candle melting slowly. I was asking you, "How on earth do you still love me despite everything I have done? Why have You chosen me? I am not worthy of Your love." You held my hand. You just smiled and embraced me. Again it was you that rescued me.
How can I resist the kind of love You offer? How can I resist your embrace? You have given me a second chance to experience the love you provide. To be with you once again. To embrace unconditional love. To accept you as the lover of my soul for real. This time there is no turning back. Your love was so deep; I can't even comprehend the depth and height of Your sacrificial love. You pursued me recklessly, and I realized that the love You offered cannot be compared to the love I looked for.
Indeed, You are the lover of my soul. A lover of my soul that never gives up, a lover that chases me wherever I am, the one that loves me even when I don't deserve it. The lover of my soul drives me to see the best in me, even if I don't. The lover of my soul who satisfies every need that I have even when I keep searching for answers. The lover of my soul that forgives. A lover that redeems my soul. You are the epitome of what real love means. You are the one that is worthy to be loved and honored. You are worthy to be worshipped, to be enthroned in the depths of my heart. Worthy of every bit of me. My body, soul, and spirit.
I love You, Jesus. I do.
Lovingly Yours,
Marlene