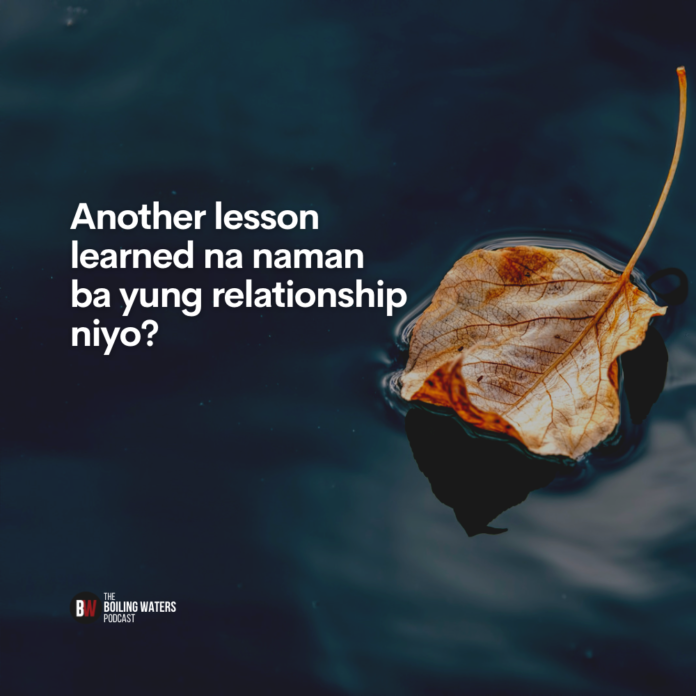 Disclaimer: The views and opinions expressed in this article are those of the authors and do not necessarily reflect the official position of Boiling Waters PH.
Hey there, I know it's tough to go through a breakup (or sudden ghosting dahil walang kayo), but I want you to know that you're strong enough to handle it.

And ito yung mga advice ko sayo:

1. Taking responsibility for your actions and forgiving yourself is a powerful step towards healing and personal growth.
While you are busy reading this article, try mo rin makinig sa episode namin:
2. Mistakes may happen, but what we learn from them truly defines us.
3. Embrace this experience as an opportunity to become a better version of yourself.
4. Self-audit, i-journal mo mga lessons mo para di mo nakakalimutan, baka mamaya maulit na naman tapos sasabihin mo ikaw lagi napag-iinitan ng tadhana.
5. Remember, just because it ended doesn't mean that it was in vain. Kaya wag mo sayangin mga pains and luha mo. Turn them into a platform, art, or puhunan sa pag move on.
6. You may delete all the screenshots ng mga convo niyo.
7. Make little changes in your daily life while moving on. Small changes in your daily routine like pagtulog ng maaga, self-care routine, diet, reading books, spending time with family and friends, and travel can make a big difference in moving on.
8. Reconnect with your trusted friends and guides. Baka nakalimutan mo na sila. Never underestimate the power of your friendships during a tough time like a breakup. Reach out to your friends and make time to do the little things you used to enjoy together.
9. Zoom out, look at the big picture! Hoy, may next chapter pa ang lovelife mo. Hindi pa ito yung ending. Keep on exploring the next pages. Remember, life goes on, and while it may be difficult to see now, this experience is just a small part of your story. Embrace this as an opportunity to grow and discover new things about yourself. As you begin to heal, you'll see that the world is still full of endless possibilities.
10. God is close to the brokenhearted. In times of pain and heartache, when we feel hurt, lonely, and in need of comfort, God is near to us. It's a reminder that even in our darkest moments, we are not alone. Go back to Him.
11. Believe in your resilience and know that better days are ahead. Absorb all the learnings and wisdom and i-apply mo sa buhay mo. You got this!

Listen to our latest episode on 🎧 spotify.com/BoilingWatersPH