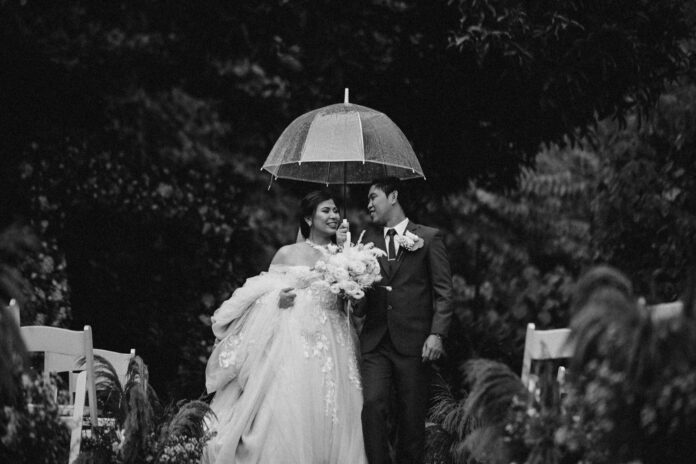 Disclaimer: The views and opinions expressed in this article are those of the authors and do not necessarily reflect the official position of Boiling Waters PH.
 Proverbs 18:22; "He who finds a wife finds what is good and receives favor from the LORD"
Two different worlds meet together. A physician and a Stockbroker. A probinsyano and a sophisticated Chinay. Bonded by faith and pure love, we have broken all walls to walk the aisle of a God-centered wedding.
We started dating before the pandemic was on the headlines. We were both praying for the right one, not the perfect one but a person who is true and God-fearing. I met Ach at a finance event. That day when I first saw her was the moment I said to myself that I've found the one. Single for long years with several failed dates, I already gave-up dating. But God has a different plan. Indeed, God works mysteriously.
While you are busy reading this article, try mo rin makinig sa episode namin:
Ach and I slowly became friends. After a few months, I laid my intentions to Ach with marriage in mind. At first, she didn't want to date me. But being a salesman all my life, I started to negotiate (lol). With a little touch of miracle, she surprisingly changed her mind. We agreed to be on an exclusive dating for 3 months. If it doesn't work, we will immediately stop it. That 3 months were followed by several months.
Then COVID-19 took a hit. It has changed the face of the industries we are involved in; Stock Market and Healthcare. Recession came, Philippine Stock Exchange dropped and at the same time, all of the physicians were overwhelmed with cases. Ach, as a frontliner answered the call.
But that didn't stop us from taking care and growing our relationship together, even virtually during lockdowns. During those times, many beautiful things have happened. She said yes to me to be her boyfriend and after a year and several months, we got engaged. We also founded Achybells Flowers, an online flower delivery based in Dangwa which we manage together.
We set the wedding date for July 4, 2021, at Narra Hill, Tagaytay. It is the perfect venue for our most-awaited wedding with a beautiful view of Taal Volcano. Two days before our wedding date, Taal volcano suddenly started to show signs of a massive eruption, with a maximum alert level. People who are living near the wedding venue have started to evacuate. Anxious and frustrated, we decided to reschedule our wedding for the safety of the family members and guests.
We also decided to do the intimate wedding and agreed to have the bigger wedding on a later date once Taal volcano is back to normal. Our intimate wedding was hugely decreased due to several members of our entourage getting Covid-19 and they have to undergo quarantine. Despite the odds, our intimate wedding was a success. It was bittersweet at the end.
Determined to rewrite our wedding story and after months of planning, we welcomed our new wedding date with new energy and excitement. We didn't want to treat the second wedding, our second best.
On November 21 at 4 pm, we got married. It was beautiful and beyond compare. From the harmony of the violins to the friendly showers of heaven that day, our garden wedding was delightful. Our family, friends, relatives celebrated with us. Our own team of Florists from Achybells Flowers also did the styling and designs of the wedding ceremony and reception.
Our wedding was perfect!
Everyone who came was blessed to hear our God-written story. It was a lifetime of joy to us as a young married couple. We are giving back all the glory and honor to Jesus Christ!