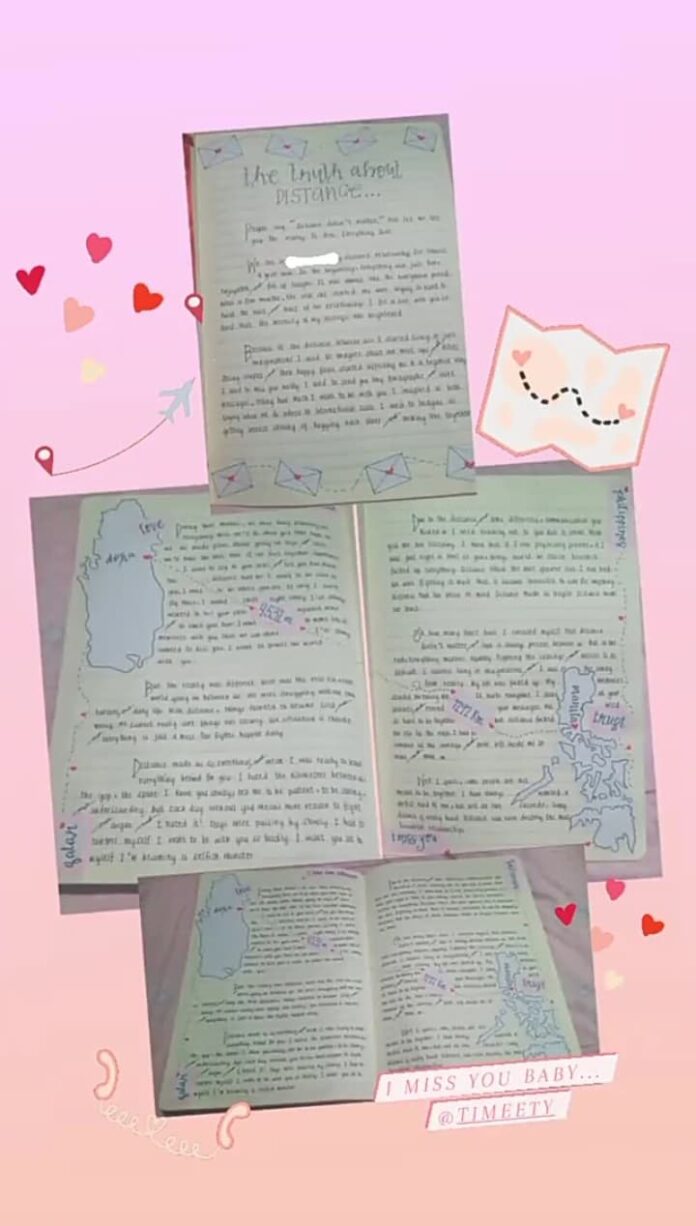 Disclaimer: The views and opinions expressed in this article are those of the authors and do not necessarily reflect the official position of Boiling Waters PH.
People say "Distance doesn't matter" but let me tell you the reality…
We are in this long-distance relationship for almost a year now. In the beginning, everything was just fun, enjoyable, and full of laughs. It was almost like the honeymoon period. After a few months, the real shit started. We were trying to build the base and trust of our relationship. I fell in love with you so hard that the intensity of my feelings was heightened. It felt like a roller coaster with you all the time.
Because of the distance between us, I started living in imaginations. I used to imagine our meet-ups and dates. Seeing couples and their happy faces started affecting me in a negative way. I miss you badly. I used to send you long paragraphs and voice messages telling you how much I want to be with you. I imagined us both crying when we do video calls or surprise international calls. I used to imagine us getting intense craving of hugging each other and making love together.
While you are busy reading this article, try mo rin makinig sa episode namin:
In the first few months, we were busy planning out everything that we'll do when you come home to me. We made plans about going on trips and that we'll have the best time of our lives together. Sometimes I want to cry in your arms and tell you how much the distance hurt me. I want to be close to you, I want to be where you are. If only I could fly there, I would soar right away. I've always wanted to feel your skin against mine and smell your hair. I want to make memories with you that we can share. I've always wanted to kiss you. I want to travel the world with you.
But the reality was different. There was this real life, real world going on between us. We were struggling with our own careers and daily life. With distance, things started to become cold and messy. We cannot really sort things out clearly. Our situation is chaotic and everything is just a mess. Our fights happen daily. We talk just to fight.
Distance made us so emotional and weak. I was ready to leave everything behind for you. I hated the kilometers between us, the gap, the space! I know you always tell me to be patient, to be strong and understanding. But each day without you means more reason to fight and argue and I hated it! Days were passing by so slowly. I had to control myself. I wanted to be with you so badly. I want you all to myself. I'm becoming a selfish monster.
Due to the distance and time difference, communication gap kicked in. I tried to reach out to you but it seems that nothing's going right. I knew that if I was physically present, if I was just right in front of you, things would be easier. Distance fucked up everything. Distance killed the most genuine love I ever had. We were fighting so much that it became impossible to ever fix anything. Distance took our peace of mind. Distance made us fragile. Distance broke our trust.
Oh, how many times have I consoled myself that distance doesn't matter and love is always present between us. But in the end, everything matters equally. Fighting the cravings and desires became so difficult. I started living in imaginations and I was so far away from reality. My life was fucked up. My memories started torturing me. It hurts every time I stare at your pictures and reread your messages. We tried so hard to be together but distance fucked our life. In the end, I had to summon all the courage left inside me to leave and move on.
Well, I guess, some people are not meant to be together. I have always wanted this kind of love, but not all love succeeds. Long-distance is really hard. Distance can even destroy the most beautiful relationships.