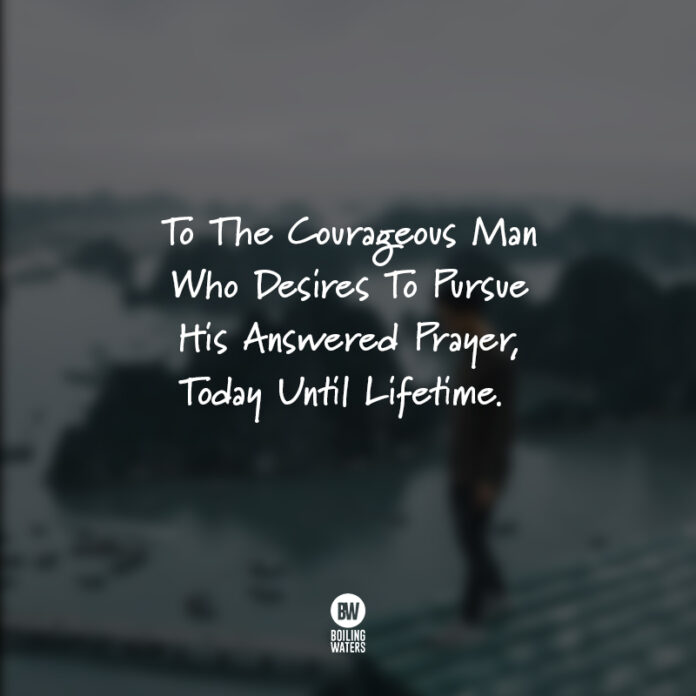 Disclaimer: The views and opinions expressed in this article are those of the authors and do not necessarily reflect the official position of Boiling Waters PH.
" She is a woman who is afraid of being in-love yet wants to be brave enough to pursue a relationship with the man she prays for. "
Man,
please before taking your steps forward to win her heart, examine your heart first. Ask God for the right discernment, convictions, and signals. Make your motives and intentions clear and right. Don't make her a fortuneteller that will blow her mind to confusions. She hates that big time.
While you are busy reading this article, try mo rin makinig sa episode namin:
I want you to know that the woman you want to pursue is a warrior. Those bruise she has, turned into beautiful scars that fits her well –showing how brave she is in life. She fails. She has flaws and imperfections but is graced with strength and confidence as a work in progress. She grows and improves day by day.
She will make it hard for you to gain her 'yes' (the wholeness of her heart).
She did her best to endure the process of pruning in her season of waiting to be the answered prayer for her man. I hope that you too did the same, for her. God made her whole again, please do not be the reason of her brokenness. Be a contributor of her healing process instead.
She's never been into a romantic relationship. She even doesn't know the feeling of being in love and in commitment. Please bare with her. But I know that she has her own special way to handle it, believing that her solid vertical relationship with God will guide her way– her source of wisdom, strength, and confidence and surely, His grace will enable her.
She may look like a simple ordinary woman but she's backed-up with an extraordinary God. Before you do some naughty things behind her, better think 7 times or more. Okay?
Yeah, she may have flaws, frustrated in many things, and she's not good at all things and sometimes she is part of behind the scenes — overlooked. But she's rooting for herself deep inside. She can glow and shine on her own ways. She's an insideout beauty of God's grace. She deserves what's better. She deserves a genuine love and acceptance from her future helping partner. Make sure that you are ready to be with her even if she's sometimes hard to deal with.
You will know her more as she slowly opens her soul for you to know her deeper.
Please know that she's not waiting for a prince charming but for a real man –a mature and responsible one. A man who can dream with her, who can support her plans and goals in life. A man that can stay beside her despite of all the despites– who will hold her hands tighter when things gets tough and rough. She prepared herself for your ups and downs.
Your ups will make the two of you stronger, your downs will make the two of you better as you grow together and older.
She values time and presence. That's how she collects memories.
She's not expecting for a fairytale and smooth sailing relationship. She's not looking for perfections. She prepared herself for the reality –a rollercoaster ride love and life story
When she's ready and decided to entrust her 'yes' to you, please make the best out of it.
Make her feel each day that she made the right decision; that you are the man that he prayed for. Yes, you are not perfect. Just like her, you too have your own flaws and issues. Don't worry. She knows that. You two will help each other.
You are not guaranteed with a perfect love story. But you will have the best one. Because both of you allowed God to orchestrate your love and life story.
Do not give her promises that you cannot stand. Better act on it. And no matter how small or big the fight, please always choose to stay with each other.
Pursue her with genuine love, consistency, solid commitment, clear and pure intentions, with purity. As an act of your protection, pure love, and respect for her. She's not perfect, but that's what she deserves.
Get ready for an extra mile hard work, man! May the Love of the One Who loved you first be your solid foundation and fuel you enough to go through.
She's rooting for you!
_Dræ