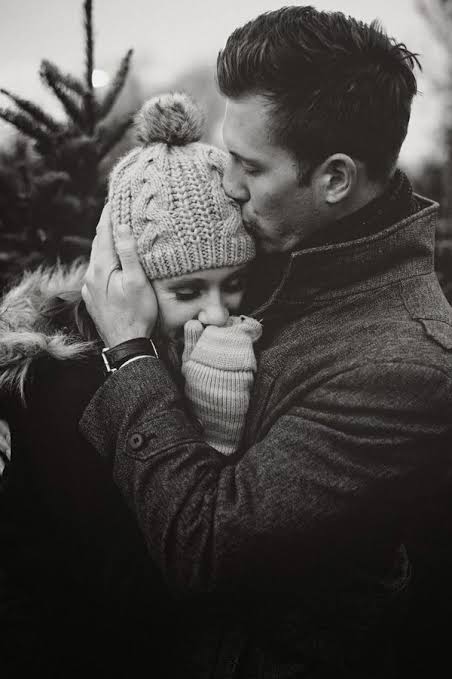 Disclaimer: The views and opinions expressed in this article are those of the authors and do not necessarily reflect the official position of Boiling Waters PH.
A real man loves and respects his woman for who she is.
He may not love his woman all the time but he loves her.
He don't love just her possessions, her body, but all of her.
He keeps in mind that physical beauty fades in time.
Therefore he focus to her true beauty,
Which is found on her sensibilities and her personality.
He treats his lady with dignity and respect.
He loves her craziness.
He doesn't mind her mood swings and indecisiveness.
Anxieties and insecurities will always be there, therefore it is his job to assure her that she is the best for him and she is the most beautiful woman for him despite her flaws and shortcomings, he will love her for who she is.

A real man fully commits to the relationship.
He doesn't cheat. He is loyal to his partner for he knows her woman's worth and how hard it is for him to find another woman like her.
He will work hard to maintain a strong and healthy relationship.
His love and affection to his woman is a full-time commitment.
He nourishes and strengthens the relationship through ongoing honest communication and team work.
Ladies, if you are with a real man you can trust him.
He will stay faithful to you no matter what and of course he will also expect you to do the same.
A real man protects his partner physically and emotionally.
Not that a woman can't protect herself, but he is always there anyway.
He protects her in different ways, including providing financial security and comforting and making her feel that everything will be okay.
He is ready to throw a good punch if necessary to protect his woman from her physical aggressors.
However, he thinks before he acts, he never makes a moves until all the details are specific and in order.
His moves are deliberate and calculated.
"Ladies, abuse of any kind will never be an issue when you are with him.
You will always feel safe with him."
He is considerate and kind to others, he has the characteristics of a good man.
While you are busy reading this article, try mo rin makinig sa episode namin:
A real man fulfills his woman mentally and spiritually.
A real man does not only flirt with his woman.
He doesn't initiate sweet conversation alone,
but he also engages meaningful conversations about life, and plan with her for the future but also cracks some jokes just to enlighten and liven moments together.
He displays awareness, sensitivity and intelligence that makes his actions not just timely but also charming.
Brains over brawn.
He also nourish you with the words of God.
He is a God fearing man and loves God more than you.
He lives according to the teachings of God.
He values chastity. He respects his woman and will never do any bad move that will degrade your body.

A real man takes the first initiative — he leads.
Ladies get yourself a man that can lead a relationship for he can lead and take care of his family in the future.
A man steps forward and addresses the issue in the relationship boldly.
He does not wait for his woman to fix the problem.
If he does not know how to address the issue, he seeks for help and advice.
Some men play it safe and avoid taking the lead because they are afraid to be criticized,
BUT NOT REAL MEN.
A real man will say "I'll handle this" and solve the problem in his own way and takes critics as a lesson to be better and utilize those criticism to fix the issues in the relationship.
A real man steps up and makes the tough decisions.
He knows that real men are decisive and makes decisions as well in the relationship.
He does not leave the decisions to his partner.
When making decisions he seeks to understand his woman's view,
and flexible enough to factor that view to his decision.
He does not seek control over his woman or control in the relationship, but rather improve it through his decisions.
To all guys out there, if you are reluctant in making decisions,
you are likely self-conscious and afraid of making mistakes.
Women hates indecisive and cowardly men.
A real man takes responsibility for his actions and decisions.
He does not shift blame (especially to his partner) or try to defend his mistakes. He simply acknowledges when he has made a mistake, apologizes for it, learns from it and works to make it right. Saying, "I am sorry" is not a big deal to him. He knows it doesn't make him any less of a man to say it. In fact, saying he's sorry makes him more of a man because it demonstrates he has the confidence, courage and integrity to admit his faults and seek to correct them.
A real man speaks his mind—always.
He is not afraid or timid to say what's on his mind. He will say no without fear whenever he doesn't agree with something. He will debate you on topics he is not comfortable with without losing his cool. He will be straightforward and talk to you as an equal, then allow you to make your own conclusions or take whatever action you wish. This does not mean he is indifferent or treats women badly. He just doesn't agree with her on everything. He knows a "Yes-man" is no man at all.
Some may think that men who are "nagpapa-under" to their woman are cute.
But that is not a quality of a real man.
A real man knows how to stand his ground but then again he can make tough decisions and he seeks to understand his woman's view and flexible enough to factor that view to his decision.
A real man stands up for the relationship.
Sometimes friends, family and even total strangers ask inappropriate questions or make inappropriate remarks about your relationship, such as saying you are not a "good couple." In such cases, a real man stands up for himself and defends the legitimacy and integrity of his relationship. Even when he is among his peers, he speaks up and stands his ground in defense of his relationship. This proves he can express himself in the presence others, protect his woman and act like a grown man.
Ladies, remember this if he is not proud of you does not defend you, you are not worth it for him, so better start thinking.
A real man pursue other passion(s) that does not involve his woman.
He has enough going on in his life to keep him busy. That means he is, at least, passionate about one other thing besides his relationship. The relationship does not define him. He will give you your space and you must give him his. He is a confident, ambitious go-getter.
A boy only focus on the relationship that he has and have no other passion.
If that is the case how would you expect this guy to have a bright future and to have a family with you?
Ladies, never settle for a boy, date a man with ambition, and aspirations.
A man who will serve as your inspiration not a distraction.
A man who will lift you yup, not bring you down.
Go get yourself a real man!
AND TO THE BOY WHO'S READING THIS, YOU BETTER MAN UP!
Thank you for reading!