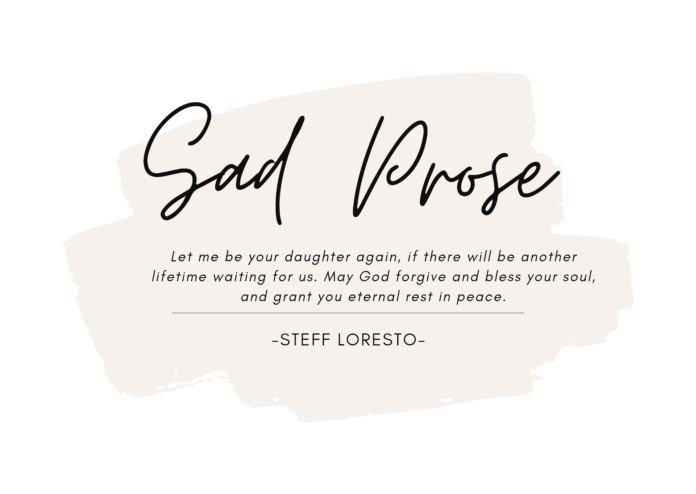 Disclaimer: The views and opinions expressed in this article are those of the authors and do not necessarily reflect the official position of Boiling Waters PH.
It took me some time to share something like this 'cause I don't have the energy, sorry. I really don't know how and what to start, or if it is alright to do this. I kept a draft of this in my phone notes for almost a month 'cause I guess the pain will forever linger in me and I cannot bear this loss. Everything around me just doesn't make sense anymore.
To all those who were close to my mom and have not heard about this yet, she passed away last September 2, due to myocardial infarction, or heart attack. In the middle of her sleep, this traitor pounced on her at passed two o'clock in the morning. She was brought to the hospital but declared as dead on arrival. It was all too sudden, even I had already forgotten about her hereditary disease these days since her last year's medication has ended, and we are all too focused thinking about this COVID-19.
It is outraging and unforgiving- to myself for not being beside her in her last moments, for being always busy and not making it at home when I have to, to the hospital respondents for not trying hard to revive her and their very poor service. But it will never help me bring her back to life and she won't like it- me blaming many people for this tragic, I guess?
While you are busy reading this article, try mo rin makinig sa episode namin:
But I lost everything. I lost my purpose, my foundation, and the reason why I strive so hard in this wretched life. I wish it was just a nightmare, so please wake me up now to ease this torment. That split of time when I was awaken by a phone call from my brother at five in the morning just to tell me that mom was gone, is still fresh like it happened just right now. His voice on the other line still echoes inside my head, like a phantom haunting and drowning me into endless agony. There's this incandescent feeling, incinerating my soul every time that tragic will flash in my mind. My heart is tearing and breaking into pieces. I don't know how to put this pain into more words.
We were ambitious. We've set and planned countless dreams together. We shared secrecies that I can never share with anyone else. And I know, nobody will ever be prepared for this kind of misery, but for me it is way too sudden as we are just half way there to reach our goals.
All my life, I was driven to aim and achieve everything I can have, because of you mom. For you to be proud of me, for you to feel a much better life after all those sacrifices I actually can't count, for you to be happy and worry-free. But guess I will never be a perfect daughter. I hope you'll understand that I've never meant any fights we had, and I will always be sorry, even if I can't say that to you sometimes back then. Mommy I'm so sorry for being such a stubborn child. Forgive me, I cannot bring back the times that I can still hug and kiss you, take photos with you, and buy you nice things to use.
Mom, tell me whom to lean on now when I'm troubled at work, teach me how to be brave and what to do with stress, 'cause you are no longer here, my stronghold, my 𝒑𝒂𝒉𝒊𝒏𝒈𝒂 when I'm upset, tired, and in the verge of giving up.
Mommy, have you lived your life to fullest? Are you really that ready to run away from us? Aren't you upset, you left me and our dreams hanging?
This isn't the way I crafted my tribute for my mother. But here it is now, so let me tell you that my mom is good person indeed, she has a clear conscience, she got a kind heart and compassionate, even somebody cannot see through her. She's a happy person, whom you'd see a smile written all over her face, like a beaming bliss as many of you have told. She's selfless, doting, a loving wife and a warmhearted friend and family. She may hold grudges to people who hurted and deceived her but she is forgiving. She's way too appreciative and benevolence radiates behind her soul.
To her family, Nava family, grandma, her brother and sisters, her cousins, my cousins, to Loresto family her in-laws, my titas and cousins, to her friends and other acquiantances, to all my friends and work colleagues, words will never be enough on how I can express my deep gratitude for all the sympathies and favors you extended for our family. Your prayers, solaces and financial supports are too much I don't know how to repay. I am trying so hard to stand up and be strong even if I feel empty and unmoored, because there were all of you.
Mommy, wherever you may be, I hope you'd still know how much I adore and love you. I miss you so much sometimes I wish you'd take me where you are now, because living alone without you is torture. Every minute is so cruel to me, taking away everything I have and longed for. Still and all, thank you for giving me life, and showing me so much love I don't really deserve. I am so grateful you made me a strong and independent woman just like you. Thank you for being tough, but selfless mother. You will be remembered forever. Don't stress yourself out there, I will try to get used to this pain 'cause I know I can never move on, even on the last breath I'd have in this existence. I would be resilient despite the fact that I don't know where and when to start. I will never say goodbye- I know you're just out there, waiting for our reunion. Let me be your daughter again, if there will be another lifetime waiting for us. May God forgive and bless your soul, and grant you eternal rest in peace.
Forever in my heart, you're alive.

Sincerely, Steffy
7th September 2021
All rights are reserved. © Steff Loresto