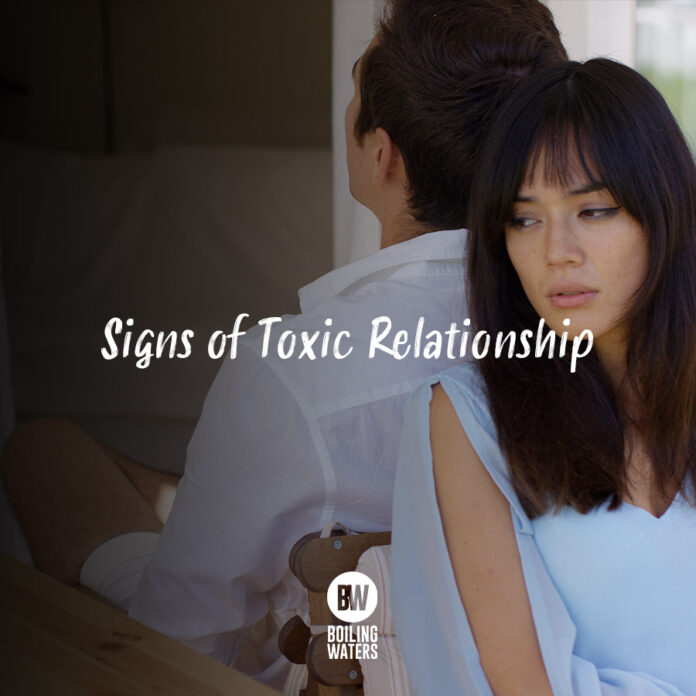 We talked about yung mga toxic patterns namin before sa relationship and how we worked it out. Dahil sa overwhelming stories na natatanggap namin sa BW, we were able to make the top list of toxic patterns sa relationship.
Before you read this, think about this: You cannot use this kung isang beses niya lang nagawa yun. People can change. People can learn from their mistakes. Before you evaluate make sure na hindi ikaw yung toxic person here ⁃ Do not use these points regularly as if you're just waiting for a person to commit a mistake. You can be toxic too! Our first step is to self-check. Kumusta naman ang heart mo? Attitude mo? Where are you seeing fruits and bad fruits lately?
Here are the Top Signs of a Toxic Relationship
The content is based on Episode 86:
When a relationship is leading you to pains but no growth.
Pain is part of the relationship. Pero kung may pain, may gain din ba? In a toxic relationship, waley! Puro pain.
Hurt vs. Harm: There is a big difference between hurt and harm. We all hurt sometimes in facing hard truths, but it makes us grow. It can be a source of huge growth. That is not harmful. Harm is when you damage someone.
Toxic people have no idea how to validate feelings, experiences, and pain that they don't feel themselves. For example, "You are so emotional," "It's not that big of a deal, get over it," or "Stop crying."
When freedom of choice is not a thing anymore
The person is too controlling and he/she just wants everything na favor sa kanya. When things are veering sa direction na ayaw niya, he/she will start a drama.
When a relationship is not safe anymore.
Emotionally wounding you
Physically hurting you
Mentally draining you
Spiritually killing you
Sexually violating you
When a relationship is unstable over time
lukewarm and cooling off, repeat
a season of instability is normal, but when a person seems to have chronic instability, that is a red flag.
always threatening to break up with you
of course NLR ka lang all the time kahit you demanded clarity na
When a relationship is not respecting your boundaries
Boundaries define us. They define what is me and what is not me. But…not with her/him.
They have an unhealthy relationship with your "no," gusto niya lang yung "yes" mo.
When things are just revolving around your romantic relationship
Both of you are addicted to each other to the point na wala ng involvement ang family and friends. The relationship becomes a god, an idol, a drug that you can't live without. You're a dopamine addict!
When the other became inferior and the other become superior
He/she makes you feel that you are not doing anything good or that person makes you feel you are not good enough.
When the Me time is not honored
You believe that kapag nagbf ka na, hindi na pwede ang "ME Time" because you need to focus all your attention sa relationship. Remember you should be growing together apart.
Application – How To Reach Out
Dr. Henry Cloud said, "We change our behavior when the pain of staying the same becomes greater than the pain of changing." Sana gamitin mo yung pain mo to find a purpose. No one is perfect, but everyone can work on imperfections.
Observe yourself.
You might be toxic too. What are your blind spots? May mga feedback ba ang accountability group mo? External problems have internal issues. Before mo siya i-cancel, try to start with yourself, then reach out and help.
Learn to confront even when it's hard.
Do it with truth and grace.
Be emotionally present – we are available to the other person. He is not shut off from us while we are telling him a difficult reality about himself and the relationship.
Toxic people rarely apologize and own their actions, but when they do, the apology is not followed by a change in behavior.
Learn the difference between Discomfort vs Injury
We need to be willing to suffer discomfort – to a point. The limit here is the limit of injury. You need to guard your heart if the relationship is giving you wounds. A continued toxic relationship will lead to a necessary ending.
Willingness to invest
It'll be hard work. You will invest a lot of time, emotions, energy to figure out a way to make it better for both of you.

Acceptance of responsibility
To the toxic partner, you must accept the consequences of your actions and make the necessary amendment sa partner mo. For example, you've shown some of these toxic traits, you should be willing to undergo suyuan sessions because there is no other way to win the person back. And sa kabilang side naman, you must be willing to forgive and help carry the burden.

Shift from blaming to understanding
Walang mangyayari if you keep blaming each other. One of you should lose in order for the "US" to win.
View your partner with compassion
In the context of the both of you agreeing to work the toxic relationship out, give more grace sa tao if may paunti-unting nagagawa siya pa rin pero nandun naman yung immediately niyang ina-acknowledge.

Heal individually
There are segments sa healing process niyo as partners to seek solitude on your own so the both of you can go back to each other with fresh and positive perspective to save the relationship.
For the full content, listen to Episode 86. Signs of Toxic Relationship