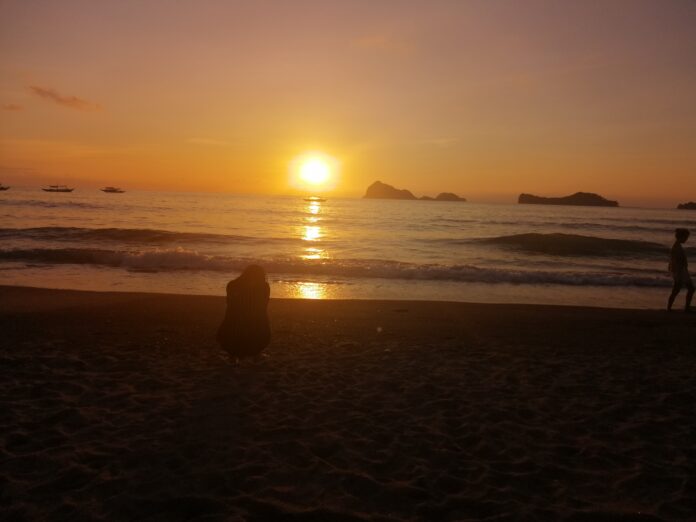 Disclaimer: The views and opinions expressed in this article are those of the authors and do not necessarily reflect the official position of Boiling Waters PH.
I've known him for almost six years now and still everything is clear on my mind on how I known him and how I saw him for the first time, even the moment I said yes when he asked me to be his girlfriend. I was too young back then and I must say it's one of those reckless decisions I've made. It's one of the decisions I sometimes regret but all I say is everything happens for a reason. Why regret and why reckless? It's because I gave my yes so easily, saying yes without even talking to him in person. Hindi ko nga alam kung kilala ba niya talaga ako, kung tamang babae ba ang linigawan niya. I just really love him and trust that he really loves me too.
We agreed to see each other but then I waited for nothing and from that day, it's hard to contact him. He's not replying my text messages and even answering my calls but if from my friends he immediately response. That's when I realized something was not right but then I always remind and tell myself that he has a reason, I always think of a reason not to doubt him kahit mukha na akong tanga. Until our communication was totally off at nalaman ko na rin na matagal na pala silang nagkabalikan ng ex niya. I never thought that I'm just his REBOUND GIRL! It never cross my mind to be just a rebound girl!
Should I be thankful that our relationship only lasted for a month? Kaso nasaktan ako eh, and to think that he didn't even say goodbye, it hurt me most. I was there thinking he's my boyfriend pero hindi pala. I should be moving on, but I was so stupid waiting for him. Anim na taon na nga eh! Sinubukan ko naman kaso sa tuwing mapapamahal ako napakaraming what ifs ang sumasagi sa isip ko. Like, what if he suddenly decided to come back? Grabe din naman kasi ang tadhana, sa tuwing nakakalimot ako bigla na lang kami magtatagpo and everything comes back. If not, I would suddenly hear something about him. There comes a time that I hear his voice if not, I wrongfully see him in the crowd. Mahirap kasi we are both surrounded with the people we both know and care.I know I had the choice to just ignore everything about him, I just can't.
I kept telling my friends and to myself that I moved on but then again sasampalin ako ng katotohanan na mahal ko pa siya. Believe me I hate it but what can I do with my feelings? Someone told me that all I need is closure for me to move on since we didn't officially break up. I want to move and I also thought that closure is what I need, to ask him the questions I kept to myself for years. So finally after four years, I got the courage to invite him but sadly we didn't have the chance to talk about us. Sat beside him but just like that, Hi, Hello, Kumusta. We were with friends and I was so shy to say that I'm not yet over him, that I still love him. So I guessed he assumed that everything between us ended just like that. I should be angry at him for breaking my heart but I can't. And I guess I shouldn't be angry kasi matagal na yun eh. We're now old enough to just let it go, ako lang talaga ang di makalimot. Sorry ha, nagmahal lang naman kasi ako at di ko rin inakala na tatagal ng ganito.
Months passed, and finally got the chance to talk with him. I had so many questions to ask but all I asked was "Did you ever loved me?" and I was so foolish and stupid to ask if there's still a chance on us getting back together. He did say he loved me but I didn't get a clear answer about us getting back together. At nangibabaw naman ang pagka assumera kong magkakabalikan kami after that kasi sa akala ko single na rin ulit siya kaso akala ko lang pala. Oo may girlfriend siya at talaga namang napakatanga ko kasi umasa pa din ako na baling araw magiging kami ulit. Sinabi ko na kasi sa sarili ko na siguro kapag nagka girlfriend siya matatauhan ako na talagang walang kami kaso wala ding nangyari. Lumipas na naman ang taon at akala ko na naman okay na ako, na nalimutan ko na siya. Pero ang lupit naman talaga kasi ng tadhana, muli na naman kaming nagkita. And once again it hit me that I'm not yet over him and to think that it's almost six years, I'm too doomed. Masaya na siya eh!
While you are busy reading this article, try mo rin makinig sa episode namin:
My life is full of "what ifs" and "sana" all about him. Sad to say, but I am one of those who says "Tanga na kung tanga, mahal ko eh". People may tease me for loving him for too many years yet our relationship didn't last that long. The closure that I thought would help me moved on helped me to love him more. Sana di na lang kami nag-usap at nagkita kasi nakita at naramdaman ko lang kung paano siya kasama. Sana di kami nagkita para wala akong maaalala kasi lalo ko pa siayng minahal. What can I do, my best in moving on still took me six years. Hindi ko alam hanggang kailan ako aasa at kung hanggang kailan ko siya mamahalin. Sometimes I pray and ask God, "Is he my one that got away, if yes, help me to forget him already." Ang sakit na kasi at nakakatanga na rin. Out of nowhere I sometimes find myself crying.
If you're reading this, I just hope you would remember me. I hope you won't forget me and remember me as the one who loves you long enough not the girl who is so annoying. Sorry mahal lang kasi kita. It's too early to say that you are the one that got away but if you are, I just want to say thank you and I'm sorry. But the truth, it seems you are really going to be my one that got away and ngayon pa lang ang sakit na. But really, even if we are destined to be just like this still I'm happy that I met you. Thank you for understanding and sorry for everything. Thank you for being a friend. Tama? Friend tayo di ba? Wish me luck in forgetting you. See you around because I know we will always have the chance to see each other. Ang liit ng mundo natin eh, friend of friends. One last thing, always be happy. Don't worry about me I will be happy. I have to. In time I can finally say I'm fine.