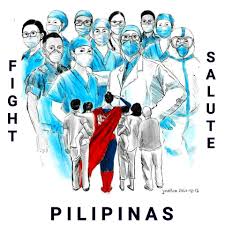 For 7 years as a Medical technologist, I never felt so proud of my profession. In this period where the world is mourning over this pandemic, my heart was so flattered.
I never been so proud like this before. Where ever I go, everyone is giving me priorities. Free food for every shift. Free ride for every duties. And never ending appraise from people surrounds you, even in social media, even the politicians, even from the most influential people.
It is really overwhelming.
I really appreciated everything. But I kinda' really weird, because I felt most appreciated and proud during this crisis.
At some point I wonder and ask myself.
"Asan na kaya yung nanigaw sa akin na patient last year?", Asan na kaya yung patient na laging nag sasabi na, "isang tusok lang ha"!. Asan na kaya yung patient dati na grabe magdemand at puro utos.? Asan na kaya yung patient na gusto lagi syang una, and priority? Asan na kaya yung patient na nanduro duro sa amin before na feeling VIP?
I wonder. In this specific time, will those people who mistreats us (Medical Health Professionals) can understand now what are we dealing to?
Are they now understand that even we are not Doctors, we are also dealing with life.
Are they now understand that we are human also, trying to survive our long hours of duties.
Are they now understand, that in order to prioritised them, we neglected our prime concerns.
Are they now understand, that we are also human. When not all days are perfect and fine. We're that we are so much tired of more 12 hours duty conquering the toxicity, sometimes we are in deep pain as our monthly menstruation cycle comes. Sometimes,or often times that we don't consume break time and forget to eat.
Are they now understand that we are more than your "hospital servants".
Are people now understand that we Medical Health Professionals taking lots and lots of effort and time to stand before you today.
In order to taking care of you today, we put passion,money, sacrifices, dreams,life and years of study to dedicated our oath to you.
As for 7 years, this is the first time that the President mention and recognised Medical Technologist.
And what is happening today are both overwhelming and frustrating; It takes one pandemic that kills million of people around the world to finally appreciated and recognised the importance of Medical Health Professions.
#FightCovid19 #Fronliner #medtech #alliedhealth #radtech #pt #ot #nurse #pharmcist
-Hansy Patootsy