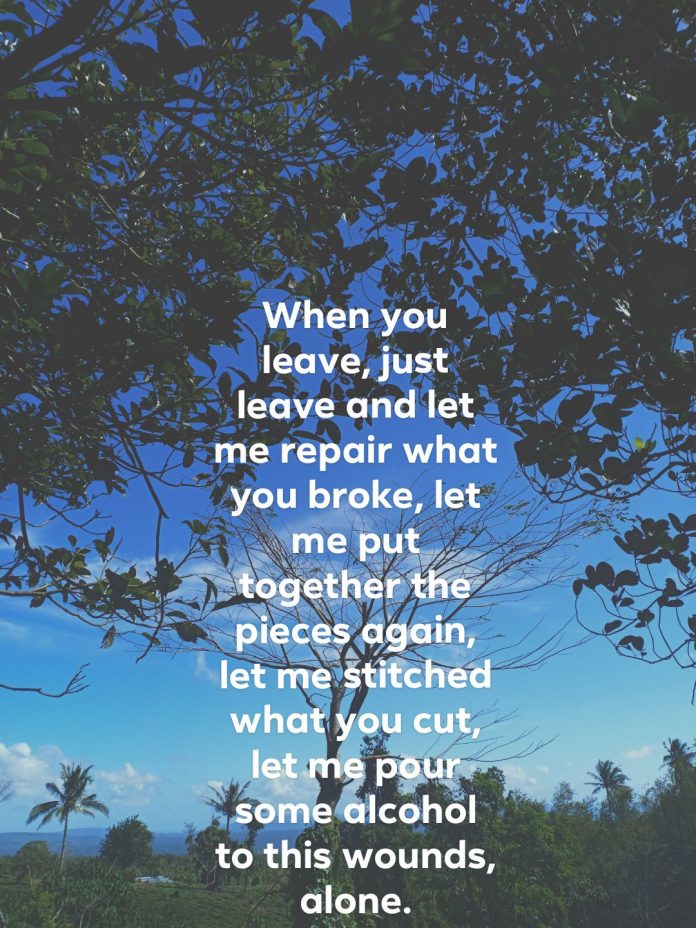 When you leave, please don't come back.
I might accept you again, which will be the easiest part than to keep my feelings.
When you leave, please don't say hello anymore. I might say hi and never want to stop our conversation until I can't no longer hold the 'iloveyou' from my lips.
When you leave, please say that you're not gonna miss me. I might remember how you make me feel happy the first time we meet, and my mind will have the idea of wanting it to come back.
When you leave, please don't say sorry. I might accept it and forget how I felt the pain you caused, it will happened again until I will be just used to this ache.
When you leave, please don't leave any mark of you that I will remember. I might come to give it back to you, and I will hate to hug you tight which I didn't do when I had the chance.
When you leave, just leave and let me repair what you broke, let me put together the pieces again, let me stitched what you cut, let me pour some alcohol to this wounds, alone.
Cause I want to hate every trace of your face than to love how you stare, than to miss how you smile, than to want how you hold, than hold to your words and promises. Just leave.