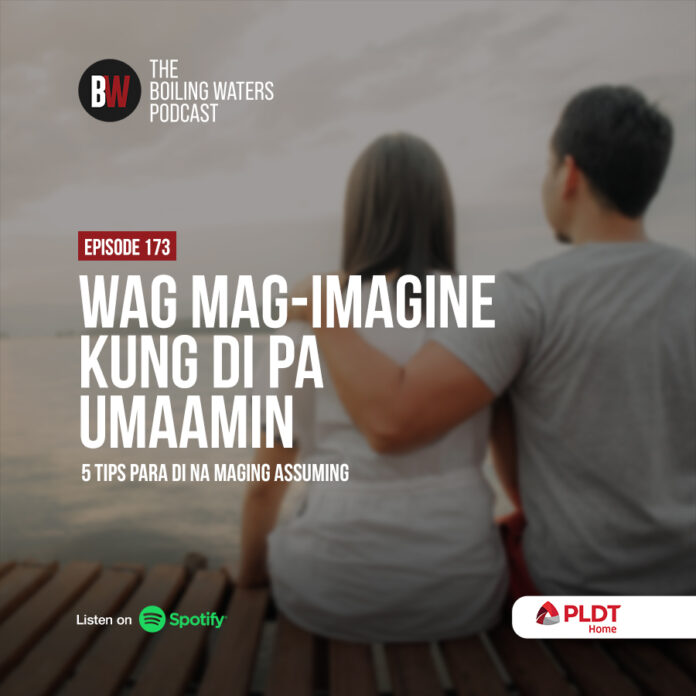 Disclaimer: The views and opinions expressed in this article are those of the authors and do not necessarily reflect the official position of Boiling Waters PH.
The problems kung inuuna mo yung imaginations before clarity.
Assumption is a mother of all confusions.
Assumptions is  termites in relationship.
Solutions or Tips:
Watch out for lines na smooth pero walang direction. Don't be a victim of your assumptions lalo na pag sinabihan kang "enjoyin lang natin toh"

"ang mahalaga ok tayo" it might be convenient for today, but you can never say if it will be the same tomorrow.

"Go with the flow" is a trap.

Basta masaya ako pag kasama kita at masaya tayong dalawa!

Words are powerful. It can ignite hope, but it can also ruin everything.

so before you assume, try

Asking

Understanding

Clarifying

Defining– DTR

You have a lot of options!
Words gives assurance but action brings clarity.

Back up your words with actions.

You'll never know until you take action. And that action will either lead to clarity.

Sabi nga namin, "Act your label."

actions and words should be aligned.

Assuming is easy, clarifying is hard.

Kung UMAMIN man siya, so what? what's the catch? what's the next steps?

Guys: make a plan and execute it, DTR and with clear intention

Ladies: you have to check if you want the same direction, can he commit and be consistent

He deserve to be respected but not to be reciprocated
Being liked is different from being VALUED.

Pag sinabihan kang "Naku-curious ako sa'yo", wag muna mag imagine. Curious pa lang naman, di pa sure. Di ka pa mahal.

You don't deserve someone who just likes you; you deserve someone who values you.

Being LIKED is dependent on others, being VALUED starts from how you view yourself (self-respect)

Wag maging marupok sa droplet of attentions!